Project: Café,
Fashion Boutique
& Nail Studio.
Location: Paris, France.
Size: 123 sqm.
Client: Private.
Created using SketchUp Pro 2015 | Vray | Photoshop
A realm of all that's exquisite, lavish and blush. An interior design concept where pink is dominant, and its ruler, it becomes.
A Heart of glass, in many textures and tints of pink. Delicate, with more than one layer to the soul . A little bit of Parisian elegance is what makes it whole. Light and shadow, are invited and here. Playfully creating images of sunlight colors and figures you can almost hear. Garments of satin, velvet and organza, are soft to the touch, too many of them?
Oh, it's never too much.

The very ethereal high-end interior design, is a highly personal project that was inspired by the client's personality, style and taste. Her elegant, pink and peony loving soul, resides in every corner of the interior; making it the primary focus while creating the design. Transparent & translucent materials play an essential role. Apart from being used as a primary element reinforcing the ethereal concept of the interior, their ability to interact with both sunlight and artificial light creates an atmosphere of surreal; depending on the time of day and year, the atmosphere changes, creating an ever-changing aura for the space without altering any of the interior. As a hybrid space, the Café and Fashion Boutique―in particular, were designed with an open space layout. The idea, is to mix the fashion and shopping experience with the tastiest and fanciest dainties on menu. This mix was thought of, mostly because of the small space at hand. However, it created an opportunity to design a unique interior concept curated for the client's vision.
Ground Floor: Café, Fashion Boutique, Instagram Corner and VIP Room.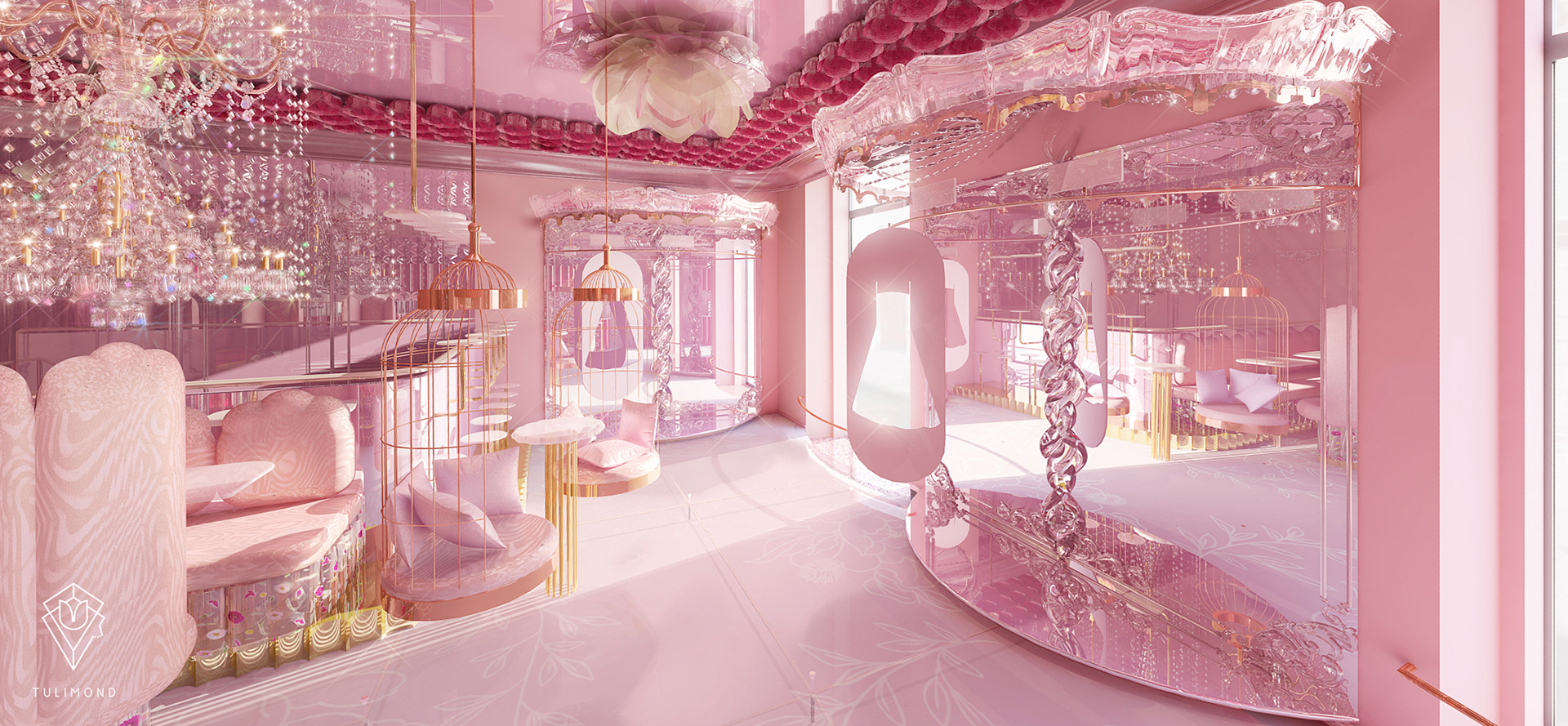 designed like the lavish comfort and glamour of one of Marie
Antoinette's
living rooms. Everything's portable and changes according to the VIP client(s) of the day. Comfortable seats, pink & pastel snack corner, portable mani & pedi, entertainment of choice, and a paravent to try-out clothes from the fashion boutique, in private.
The entrance, natural light and privacy play a big role in the space layout. With the interior project spreading through out two floors, open spaces that require more privacy, are placed on the lower floor, and spaces that are more public, requiring natural light, window view, and in need to be closer to the entrance, are placed on the ground floor. Moreover, the circulation between the spaces is an organic one. It provides a free-flowing path for both staff and customers.
Basement: Nail Studio, Fitting Room, Makeup Vanity, Event Space, Toilets and Staff Room.
In case you were wondering, dear viewer, why there are red and white bricks in a very ethereal pink space?
Well, the location rented by the client is considered a heritage site, that's renovated for commercial use. And those bricks in particular are not. To. Be. Touched. And so, the pink interior ended up, beautifully wrapped around the heritage of Paris.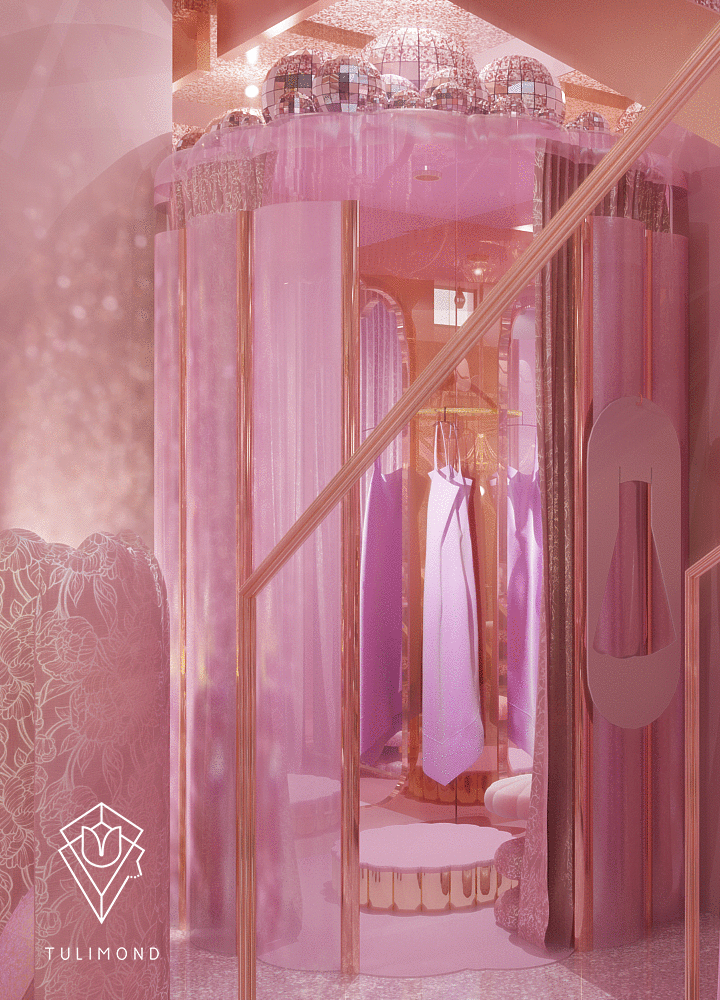 Mani & Pedi | Fitting Room | Makeup Vanity
Process renders and illustrations.